Isuzu NPR Vacuum Pump 2020.5+ Style Brand NEW 290KT00030, 8975481860, 97548186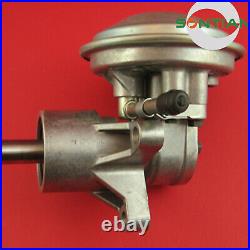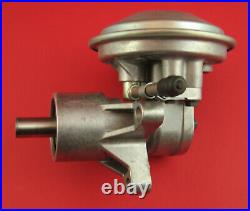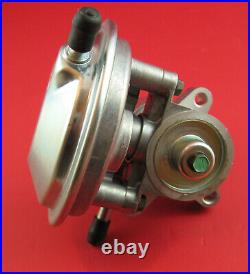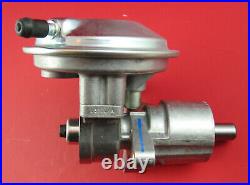 BRAND NEW VACUUM PUMP (Belt Driven) PLEASE READ THE DESCRIPTION. IF YOU RANDOMLY ORDER THIS PUMP FOR A PRE-2020.5 TRUCK WITHOUT READING THE DESCRIPTION YOU WILL LIKELY ORDER THE WRONG PUMP.

Replaces the following Part Numbers: 290KT00030, 2-90KT0-003-0, 8975481860, 97548186, 97780770, 8-97656-980-0 FITS: IZUZU NPR NQR N-Series 2020.5+ (i series) Gas Engines Only. Isuzu NPR Vacuum Pump 2020.5+ Style - Brand NEW 290KT00030, 8975481860, 97548186. Replaces the following Part Numbers. IZUZU NPR NQR N-Series 2020.5+ (i series). IMPORTANT: Starting in mid 2020 with the I-Series Trucks, Izuzu introduced an updated belt-driven vacuum pump design.

The new pump has a longer snout and shaft than the previous design allowing for more robust bearing support of the shaft and greater durability. This pump can be retrofitted to trucks back to 2008 but will require use of a deep offset / dish type pulley. Note that some upfitted trucks have an additional belt in front of the main factory serpentine belt to run other accessories such as hydraulic pumps. In these applications this new style vacuum pump will usually not work because the longer shaft physically interferes with the extra drive belt.

If you have a pre-2020.5 truck and wish to retain the original vacuum pump setup and use your original flat pulley, see our this item. This pump is NOT the same as the original pump for the 6.6L application (Part numbers 97656980 / 8-97656-980-0). As of the time of this writing, the 6.6L pump is on international backorder, with none available anywhere. This pump will work in place of the original pump.

It is totally identical to the original except for the location of the breather / fresh air line. Installing this pump on a 6.6L will cause the breather line connector to be very close to the engine, but it is workable and will allow you to get your truck up and running! If a delay occurs that is longer than would normally be considered commercially acceptable, we will attempt to contact you. Please take a moment to read it.

Local auto parts stores will not pay your travel costs to return a part either. Applications We guarantee our parts to be as described by part number, picture, and verbiage. While we do our best, vehicle applications, however, simply cannot be guaranteed.

In most cases, we do not generate application lists. It is the nature of the auto parts business that, in rare cases, a part will not be correct for a certain vehicle even though it "should" fit. This may occur because of errors on application lists, mid-year production changes, changes to the vehicle since it was built, the fact that a car was not built for the US market, etc.

If a part does not fit your vehicle, this does not mean the part is not as described. Problems can be solved much more easily when civility is kept intact. 97548186, Can be used in place of 97656980 / 8-97656-980-0.


Homepage
Links
Contact Form
Privacy Policy
Service Agreement