For Isuzu NPR Engine Vacuum Pump 2020.5+ Style 290KT00030, 8975481860, 97548186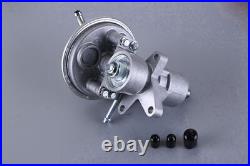 For Isuzu NPR Engine Vacuum Pump 2020.5+ Style 290KT00030, 8975481860, 97548186. Because the store is understaffed, we have a specific time to respond to customer service questions. There will definitely be someone to follow up with your question within 24 hours.

Interchange Part Number: 290KT00030, 2-90KT0-003-0, 8975481860, 97548186, 97780770,8-97656-980-0. Compatible Vehicle: IZUZU NPR NQR N-Series 2020.5+ (i series) Gas Engines Only.

Feature: PLEASE READ THE DESCRIPTION. IF YOU RANDOMLY ORDER THIS PUMP FOR A PRE-2020.5 TRUCK WITHOUT READING THE DESCRIPTION YOU WILL LIKELY ORDER THE WRONG PUMP. Starting in mid 2020 with the I-Series Trucks, Izuzu introduced an updated belt-driven vacuum pump design.

The new pump has a longer snout and shaft than the previous design allowing for more robust bearing support of the shaft and greater durability. This pump can be retrofitted to trucks back to 2008 but will require use of a deep offset / dish type pulley. Note that some upfitted trucks have an additional belt in front of the main factory serpentine belt to run other accessories such as hydraulic pumps. In these applications this new style vacuum pump will usually not work because the longer shaft physically interferes with the extra drive belt. This pump is NOT the same as the original pump for the 6.6L application (Part numbers 97656980 / 8-97656-980-0).

As of the time of this writing, the 6.6L pump is on international backorder, with none available anywhere. This pump will work in place of the original pump. It is totally identical to the original except for the location of the breather / fresh air line.

Installing this pump on a 6.6L will cause the breather line connector to be very close to the engine, but it is workable and will allow you to get your truck up and running! Package Included: 1PCS 8975481860, 2-90KT0-003-0, 290KT00030 Vacuum Pump. Before you pay, please make. S service is NOT trackable.

Please Note that size and color representation are subject to manufacturing variance and may not be exact. Also note that monitor settings may vary from computer to computer and may distort actual colors.

Your satisfaction is important to us and we value your business. We are in Shenzhen of Pearl River Delta which is developed place with economy and Trade We are a profession trade company. Wholesale price could be offered if large quantity needed. We are off work on Weekends or public holidays, any messages received during this period will be replied on next Monday morning.

If you have any problems, we are very glad to help you.