36diameter 20 deep Stainless Pressure Vessel vacuum chamber with Welch 1397 pum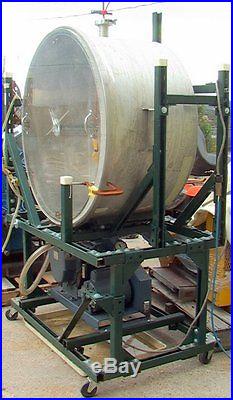 We have 1000's of Industrial/Laboratory equipment & parts items--See the categories on the left below. Felker Bros 36"-diameter 20" deep Stainless Pressure Vessel vacuum chamber w/ Welch 1397 Duo-Seal Vacuum Pump - Tested Good to breaking point of plexiglass cover. 36 diameter stainless vacuum vessel and Welch 1397 Duo Seal rotary vane vacuum pump on a unistrut rolling steel stand. This vessel is rated down to 0 PSI or up to 100 PSI at 200 degrees F. The stand has it on edge but the chamber could obviously be used in any orientation.

PLEASE NOTE that the plexiglass cover pictured is one we fabricated in order to test the chamber for leaks. Despite our attempt to support the cover with the pipe you see in the center of the chamber, the cover cracked.

Unit is in very good condition. Did not come with a cover. We attempted to test it by fabricating a thick plexiglass cover, but despite its thickness and a center support post we installed, the cover cracked under vacuum.

PLEASE look over the pictures carefully. If you don't see it in the pictures, it's probably not included.

Manufactured in 1992 by Felker Bros Corporation in Wisconsin. 0.25 vessel wall thickness. Tested to -18 in Hg (roughly -9 PSI) before our plexiglass cover cracked. One small (1 3/4) vacuum port on top.

Overall entire assembly is roughly 28 by 44 by 70 inches. Vessel is 35.5" diameter x 20" deep interior dimensions. Please be aware that LTL packing will add size and weight, although you may pick it up as-is from our location.

You can make an offer.. International is super costly & slow.

We make a mistake now & then.. We reserve the right to..

Bio energy fuel diesel components. Lab& industrial ovens & furnaces.

Wire, cable & shrink tubing. Additional similar or related items may be available listed separately. This Might Be Just What You Need For Your Large Pressure/vacuum Vessel with pump Application.

Terms And Conditions Are As Follows. This might be, but is not limited to, any one or more of the following reasons. Not mentally or physically capable or competent enough to safely possess or operate the item. Not of an appropriate age. Lacking the training, certification or functional knowledge appropriate for possessing or operating the item.

Does not have the legal qualifications required for possessing or operating the item. Back To Beginning/Top Of Document. It pretty much says "what you see is what you get".

It may or may not work. It may or may not have hidden defects. In some cases we may be able to guarantee some aspects of an item as a special exception, with additional cost and or limitations. This includes responsibility for making sure the item does not come into the use or possession of any party not functionally qualified or legally allowed to possess or operate the item. This applies to all buyers of items of all sizes and amounts from all countries.

Non-electronic payments must be sent by traceable courier service. E-check (bank account as source of funds) payments must be initiated immediately as it takes about a week for them to clear. We will not forward any funds or partial funds to any third party.

This number must be enclosed within the return packing of the item and clearly marked on the outside of the return package. The l isting description is correct to the best of our knowledge at the time of listing but we are subject to making human errors and circumstances, street prices, manufacturing status, etc. We are human and do occasionally maker errors.

If this is not acceptable to you or you don't have the patience to work with us on resolving any issues that might arise, please don't proceed. Any given item may be subject to one or more types of government regulatory restriction.

Some of the items we have are labeled as restricted for sale only to parties that meet specific qualifications. International sales present the greatest regulatory restrictions. Any item is subject to export restriction to any government, organization or person that the US Department of Homeland Security has decided they don't like. Any item that can be construed as being of technological, military or terrorist significance is subject to restriction at any value. Any time any DHS staff member gets a hair up their whatever for any reason, they can throw us in prison with out any material cause or provocation.

This is costly and time consuming for us to do with no assurance of being right. In most cases, it will be turned over to an export broker. Most countries also have their own import restrictions.

Some of these restrictions are really unique on a country-by-country basis. RE-SALE OF GOVERNMENT PROPERTY DISCLOSURE STATEMENT.

Government may or may not be authorized for export from the United States. If export is allowed, the purchaser is solely responsible for obtaining required clearances, approvals and/or licenses. The purchaser is also required to pass on DOE's export control guidance if the property is resold or otherwise disposed. The required DOE export control guidance is as follows.

The use, disposition, export and re-export of this property are subject to all applicable U. Laws and regulations, including the Atomic Energy Act of 1954, as amended; the Arms Export Control Act 22 U. ; the Export Administration Act of 1979 560 U. ; Assistance to Foreign Atomic Energy Activities (10 CFR part 110); International Traffic in Arms Regulations 22 CFR parts 120 et seq. ; Export Administration Regulations 15 CFR part 730 et seq.

; Foreign Assets Control Regulations 31 CFR parts 500 et seq. ; and the Espionage Act 37 U. Which, among other things, prohibit.

(a) The making of false statement and concealment of any material information regarding the use or disposition, export or re-export of the property; and. (b) any use or disposition, export or re-export of the property which is not authorized in accordance with the provisions of this agreement.

Sale of LANL/KSL Services Surplus/Salvage Property Rules. 3 The use, disposition, export and re-export of this property are subject to all applicable U. ; Assistance to Foreign Atomic Energy Activities (10 CFR part 810); Export and Import of Nuclear Equipment and Material (10 CFR part 110); International Traffic in Arms Regulations 22 CFR parts 120 et seq. NOTE: This statement must accompany the transfer or resale of this property.

We have never succeeded in collecting on a claim. In a very limited number of cases, we might suggest it for exceptionally high value items.

Do not unload from the truck if it is a truck item. Thoroughly document the damage with pictures and notes on the truck. If an item come via Fed Ex or similar parcel service, Inspect the package prior to opening it, take images and notes if there appears to be any damage. If damage to the goods is not apparent carefully open the package, saving all of the packing material and inspect the goods for damage. If the goods are undamaged, then no harm done. NEVER discard any packing material prior to inspecting the goods you receive. If you find damage after you have unpacked something you will always be required to provide evidence of damage to the packing material. Items that are left at our facitlity are continually in the way and are subject to damage and degradation as they get moved around to make way for ongoing activity. Items are subject to re-listing immediately upon forfeiture. We hate to have to institute this policy but unclaimed items are consuming our precious limited storage space that we have to pay dearly for. We reserve the right to. Make changes, including change in price, content, description, terms, etc. At any time without notice. The item "36diameter 20 deep Stainless Pressure Vessel vacuum chamber with Welch 1397 pum" is in sale since Tuesday, July 5, 2016.

This item is in the category "Business & Industrial\Hydraulics, Pneumatics, Pumps & Plumbing\Pumps & Pump Accessories\Vacuum Pumps\Vacuum Chambers". The seller is "cavlon99" and is located in Mountainair, New Mexico. This item can be shipped to United States.
Brand: by Felker Bro Welch
Model: 1397
MPN: Does Not Apply
Application: Lab
Power Source: Electric
Type: Vacuum
Country/Region of Manufacture: United States